| | |
| --- | --- |
| ABOUT OUR COUNCIL | |
BISHOP CLAUDE DUBUIS - (the apostle on horseback) is the Patron of our Council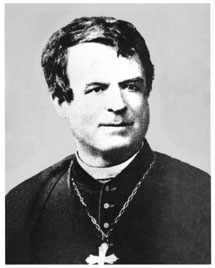 Bishop Dubuis was born March 8, 1817 in the family home three miles from Teche, France. He was taught in his early youth at home by his mother because there were no schools for the poor. He made his First Holy Communion on May 12, 1827. Abb. Dubost, his maternal uncle, seeing the evidence of a priestly vocation, took him to his home and for five years taught him Latin. In 1832, he entered the Ecclesiastical Institute L'Argentiec, the Petit Seminaire of St. Jodard before pursuing his four-year course in the Grand Seminaire in Lyons, France. Claude Dubuis was ordained June 1, 1844.

On February 19, 1846, (the very day The Loan Star Flag was lowered for the raising of the Stars and Stripes over the capital in Austin) young Dubuis along with eight clerical companions and three future Ursuline Sisters left for Texas. He did not know it was the birthday of Texas as a state nor did the Texans know that a Frenchman was leaving his country to add luster to its history books. They arrived in Galveston on January 4, 1847 and the following March, Bishop Odin assigned Dubuis to Castroville. He suffered many hardships while on his missions on horseback covering the territory of Texas.
In 1851, Bishop Odin appointed him vicar general of the western part of the diocese and named him pastor of San Fernando Cathedral in San Antonio. There Father Dubuis, in aiding the establishment of the Ursuline Academy and St. Mary's Boys School, not only promoting the interests of the Catholic Church and the religious communities in charge of the schools, but also very definitely contributed to the civic education and culture of San Antonio and the State of Texas.
Father Dubuis served as the first pastor of St. Mary's Church, which he manually built-also the old rectory. He experienced the bigotry of Know-Nothing Days, but was fearless in the face of danger and persecution.
While in France on another recruiting trip to his beloved homeland before returning to San Fernando and San Antonio he received the news that he had been chosen as second bishop of Galveston to succeed Bishop Odin, who had been promoted to the archbishopric of New Orleans. Among the commendations that preceded Father Dubuis' nomination for this office were "his love of the missions, his self-abnegation and zeal. There is nothing extraordinary about his talents, but he has more than ordinary ability." On November 23, 1862, Father Dubuis was consecrated by his friend and mentor, Bishop Odin, at the seminary chapel in Lyons, France, with his mother and other members of his family in attendance.
In the spring of 1881, Bishop Dubuis went to Rome and formally resigned the administration of his diocese July 12, 1881, but retained his title.
He then never saw his beloved Texas again, but lived out his days in different parts of France seeking relief from rheumatic pains and other ailments inseparable from the years of missionary rigor. He marked the golden jubilee of his ordination and the 36th anniversary of the consecration as bishop June 6, 1894. Following his jubilee, Bishop Dubuis' health continued to decline and he died quietly in the family home May 21, 1895.
Reviewing the 11 years when he administered the diocese that was coterminous with the State of Texas, one could speculate over the many vicissitudes that placed him in the same category as the great St. Paul. He journeyed often, particularly to his native France, and always to beg for money, men and/ or materials.
Twice he was almost submerged by shipwreck. His journeys throughout Texas brought him into conflict with wild animals, rattlesnakes and marauders. He fought his way courageously and skillfully throughout prairie fires, wintry winds, storm and snow. He was the victim of the Comanches more than 20 times. In one such incident, he was taken captive and carried off as a hostage to the Indian chief. The latter was so overcome by Bishop Dubuis' courage that he released him and gave him a better horse than the one on which he had been captured. Frequently, he was robbed of his personal goods and his house raided several times.
So, the remains of the second ordinary of the diocese and Texas rest in the parish church of St. Denis in his native Coutouvre, but the spirit of this great pioneer and leader in civic and Church life in Texas inspires the living to carry forward in the second hundred years the works he initiated in Texas' first hundred years of statehood. He was indeed, the "apostle on horseback."
Mr. John O'Brien of the County of Brazoria sold to Most Reverend C.M. Dubuis, three and one-half lots on Block Number 75 in the town of Richmond, Texas. This is the site on which Sacred Heart Catholic Church stands today.
The above is the report by KC Brother Alan Ewald to Council 7445 after researching the history of three people after whom to name our Council. At that time, no Knights of Columbus Council in Texas had honored him with their council name.

********************




Claude Dubuis … First Priest in Castroville





An extract from

Willkomme ...
Your Guide to Castroville
A Little Alsace of Texas

By Castroville Area Chamber of Commerce
2017

Claude Dubuis … First Priest in Castroville
The first pastor of St. Louis Catholic Church, Claude Marie Dubuis, was assigned to the parish in January of 1847 by the first Bishop of Texas, Jean Marie Odin. Dubuis, a native of Teche, France, was born March 8, 1817, educated in French seminaries, and ordained a priest January 1, Lyons, France. He was recruited as a missionary to Texas by Bishop Odin and arrived at New Orleans in 1846. After studying a short while in Missouri, he was sent to minister to the Catholics in South Texas.
When he arrived in Castroville, he found a very small log church and a crude hut for his use. He immediately set to work getting acquainted with the language of the Alsatians. He opened a school teaching some 80 youngsters within the first year. He developed the cemetery and placed a cross on the hill next to the cemetery, following a tradition common in the villages of France. For more than 100 years, Cross Hill was used by the parish for pilgrimages and prayer petitions, such as rogation days, to pray for successful crops of the farmers. The custom was discontinued in the 1950s.
He set about building a new house with the help of his assistant, Father Matthew Chazelle. Both priests contracted typhus fever and Father Chazelle succumbed to the fever in September of 1847. Chazelle was buried first in the garden of their home, but later his remains were transferred to the church. Father Emmanuel Domenech was sent to help Dubuis. Besides Castroville, their pastoral duties included taking care of the Catholics in Quihi, D'Hanis, Fredericksburg and New Braunfels. On their travels by horseback they often encountered local native Indians but were never harmed. Father Domenech later published a journal of his adventures in Texas and Mexico. In 1849 Fathers Dubuis and Domenech solicited the help of the men of the parish to erect a more permanent and larger church, a block north of the first church. Completed on Easter Sunday of 1850, this church was used for several years before a second permanent church was built just west of the first stone church. That church was used for 20 years and later razed when the present church was finished in 1870.
Dubuis left Castroville in 1852 and was assigned to San Antonio and appointed vicar-general by Odin. He was consecrated the second Bishop of Texas and first Bishop of Galveston in 1862. He was a tireless worker, building churches and promoting the Catholic faith throughout South Texas. He recruited many sisters and priests from Europe to serve in Texas, including the Sisters of Divine Providence from St. Jean-de-Bassel near Nancy, Alsace. He assisted them in building their first convent in Castroville, today used as a retreat center. In 1868, he assigned a Frenchman, Father Peter Richard, as pastor for St. Louis Church. Dubuis returned often to his first parish and laid the cornerstone for the third church. He was well-loved and remembered in Castroville.
Dubuis returned to France in 1881 and died there in 1895.
Return to ABOUT OUR COUNCIL
Return to Home Page